A New Addition to the Fleet.
A brand new machine has been added to the Banner Plant Fleet, the JCB 7T-1 HI-VIZ Cab Dumper.
Built with total safety in mind, the JCB 7T-1 Hi-Viz is a market first and was specifically designed to address industry concerns. The result is a machine with unrivalled front visibility, stability and operator protection.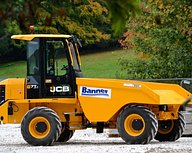 Some of the features included are
Impact-Protective front screen, toughened side and rear glass and a reinforced frame for improved protection
JCB powershuttle transmission with permanent 4WD
Direct line of vision to 1.4m height at a 1m distance from the machine when laden, a 77% improvement
Tapered, simple skip interior geometry for a smooth spoil ejection.
16% lower payload centre of gravity increasing stability, due to the unique skip design and lowered chassis.
Built with the typical build quality that you'd expect from JCB, we hope this will be a valued addition to our fleet for years to come.
Contact our plant depots for a quotation.
Dronfield - 01246 299405
Derby - 01332 752035
Leicester - 0116 254 0700
Ossett - 01924 283487