Standard Pressure Compressors
A range of compressors operating at 7 bar with free air delivery starting at 300 and rising to 600cfm. All models are fitted with spark arresters and chalwyn valves which promotes safety, especially within the Petro Chemical Industry.
World renowned manufacturers Atlas Copco and Doosan Range have supplied all our units with the latest additions benefiting from modern emission controlled engines. A range of accessories including pressure reducing valves, desiccant dryers, filter packs and water traps are available to assist in the delivery of clean air.
Talk to us today!
Use our simple enquiry form to make an enquiry about Standard Pressure Compressors
Make an enquiry
---
Compressors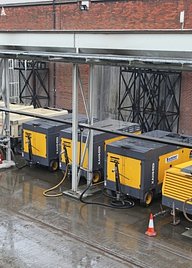 Product Name
Free Air Delivery
Operating Pressure

Doosan 7/73 - 250CFM Compressor

247cfm
7bar

Doosan 7/73 - 250CFM Compressor

247cfm
7bar
View Details
View Details

Doosan 7/41 - 2 Tool Compressor

141cfm
7bar

Doosan 7/41 - 2 Tool Compressor

141cfm
7bar
View Details
View Details