Banner Celebrates 60 years!
Although our heritage dates back to well before World War 2, this year sees Banner Plant celebrate 60 Years as a Limited Company.
Incorporated on the 7th of July 1958 the Company was very different from the one we know today.
Over the years Cranes, Road Sweepers, Backhoe Loaders, Scaffolding and Plant Sales have all come and gone.
Our current offering is centred on the M1 corridor from Leeds in the North to Leicester in the South. We have eight trading Depots operating a total of thirteen profit centres.
Today our key product lines are Plant, Temporary Site Accommodation, Loo Hire, Powered Access, Power Tools and Big Air Compressors, all for hire.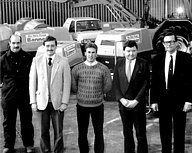 60 years is a long time and to put it in perspective here are a few interesting facts you may have missed...
Pat Boone was number 1 with "I'll Be Home"
England won the world cup in 1966 (I'm sure you already know about that one though)
American Astronaut Neil Armstrong became the first man on the moon!
The Queen celebrated her Silver, Golden and Diamond jubilee.
The world celebrated the Millennium!
London played host to the Olympics! Amongst many, many more…
Over the years, in an ever-changing world, Banner has continued to prosper and succeed thanks to our employees, customers and suppliers. It's a team effort with everyone playing their part. My thanks and gratitude to you all, and here's to another 60 successful years. Cheers.

Managing Director, Giles Boot