Banner Loo Helps Tramlines To Nomination.
Toilet facilities are an essential that we all take for granted, but as sure as the sun rises and falls we all appreciate them when the need arises!
So we are delighted and proud to have provided Sheffield Tramlines Music Festival with washroom facilities that have been nominated for the "Best Lavatory Gong" at the UK Festival Awards 2013.
Our involvement with this event stretches back 5 years. In 2013 we supplied 80 units and had 5 Service vehicles in attendance to sanitise and restock with essentials.
Along side the toilets Banner Loo also provided the Event Management Office, Command Centre Office, back stage changing facilities, a mains toilet block and hydro water tanks.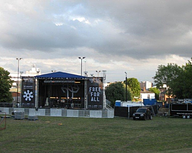 A lot of time, effort and planning, has gone into ensuring the little things in life, add to the overall experience of Tramlines.

Dave Pallass, Loo Hire Manager