Banner Plant announces changes to its Senior Management Team.
Henry Boot has announced that Giles Boot of Banner Plant (BP) will be retiring from his role as Managing Director (MD) on the 30 June 2021 following a long and successful career with the Group.
In his current role, Giles has repositioned BP client base and order book from an internal hire supplier to a business generating 94% of its turnover from the open market. Everyone within Banner Plant would like to wish Giles a well deserved retirement.
After undertaking a thorough recruitment process for the role, including internal and external candidates, the Group is delighted to announce Jonathan Fisher will join the Group as the new Managing Director of Banner Plant.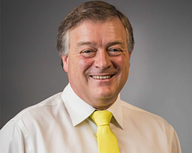 Jonathan joins the Group as the new MD of BP from Elliot, part of the Modulaire Group Company. Jonathan has extensive industry experience from his previous position as the UK Sales Director and will be tasked to continue leading on progressing the digitalisation of BP sales systems and growing its strong position within plant hire.
Giles is working to ensure there is a smooth transitional period before Jonathan takes up his new role on 1 July 2021. Henry Boot is pleased to welcome Jonathan to the Group and wishes him every success in his new roles.
'I'm proud of the evolution and growth I've overseen at Banner Plant, as we've transitioned from an internal supply company to a commercially successful Plant Hire business. As I leave the Company in great shape to face future challenges, my thanks and respect go to all the loyal members of my team who have contributed so much over the years.'

Giles Boot, Managing Director of Banner Plant