Banner Plant Win HAE Golf Day.
Having been members of the HAE (Hire Association Europe) since 1977 we thought it was time to enter the Association's Golf Day!
Our team was led by MD, Giles Boot. He was ably assisted by Dave Pearson and Keith Burns of Henry Boot Construction, and John Bates, owner of Harborough Hire.
The event was held at Staverton Park near Daventry, where the weather on the day was challenging, wet and windy!
For those who understand Golf the team score was 93 points, 5 clear of second place.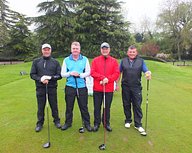 The best individual prize went to Keith Burns of Henry Boot Construction. He turned up in the morning and very honestly announced his handicap had just been cut by two shots. Good job he was honest, as his score of 42 points was still 6 clear of second. Crise of bandit could be heard ringing out!!!!
Should we wait another 39 years to enter again, or defend the title in 2017?
It will probably depend on the weather!