Four at Forty. Celebrating milestones with Banner Plant.
Banner Plant has hosted a special event to celebrate the loyalty of some of its team at a Long Service Awards Dinner at Little Italy in Dronfield.
Four members of the team have collectively worked at Banner for 160 years, a momentous achievement in the modern age.
Steve Hynes, Martyn Sanderson, Ian Moore & Mick Ruddy all celebrated their 40 year long service award, whilst Andrew Evans also celebrates 10 years with Banner Plant.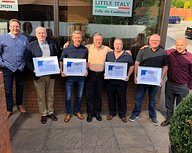 In an ever-changing world, Banner has continued to prosper and succeed thanks to its employees. 40 years is a long time & shows outstanding loyalty given to the company. I'm incredibly proud to have them as part of the group & hope to continue celebrating our success, thanks to the efforts of all our employees.

Managing Director, Giles Boot