HVO Fuel – Now available at Banner Plant.
As part of the group initiative to become NZC, we will now be using HVO fuels where possible in all our machinery.
HVO stands for Hydrotreated Vegetable oil, it's manufactured using 100% renewable & sustainable waste, ethically sourced & derived from raw materials and can offer you a significant reduction in your carbon emissions.
You, the customer can have the confidence knowing your machine will be filled where possible with an HVO fuel, this can lower the carbon emissions of the machine by up to 90% and help towards your own sustainable business goals.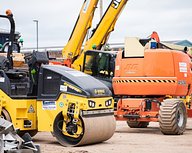 Some key benefits and facts.
HVO is accepted by the Road Transport Fuel Obligation and certified by the ISCC (International Sustainability and Carbon Certification). It also meets international fuel standards EN15940.
It is a proven way to reduce your CO2 emissions by up to 90%,Nitrogen Oxides emissions by up to 27% & particulate matter by up to84%, all key components in achieving improved air quality for us all!
It doesn't freeze in cold temperatures
HVO fuel is biodegradable
HVO has a 10-year shelf life.
HVO offers better combustion and filtration than the usual diesel alternative.
It is a 'clean' fuel source, free from fossils, FAME and is odourless.
If you would like to learn more, you can speak to a member of our team, find your local depot by clicking here.