JLG Electric Scissors Delivered.
A range of JLG Electric Scissors have been delivered to Rotherham Access to bolster our product offering.
A total of ten machines have been added, split between JLG1930ES, JLG2646ES and JLG3246ES models. Working heights start at 7.72m for the 1930's rising to 11.68m for the 3246's.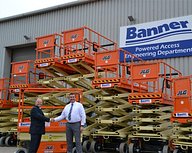 The superior charge of the JLG Electric Scissor adds up to more productivity and less down-time for customers" – a winning combination.

Phil James, Rotherham Powered Access Manager
Phil can be seen on the right accepting delivery from Greg Moore of JLG.