New kit continues to arrive at Powered access & Plant
Our plant divisions have recently received some brand new 6m Genie Telehandlers.
These lightweight, compact 4 wheel drive telehandlers are spacious and comfortable thanks to an adjustable seat, adjustable steering wheel and have the options of ventilation or heating within the cab. They are also extremely manoeuvrable thanks to a tight turning radius and the hydrostatic transmission ensures smooth, continuous control over the machine.
We are also proud to introduce our new Genie Z60/37FE hybrid articulating boom to our fleet. It is an ideal solution for outdoor or indoor applications with a low emissions footprint and low noise performance.
Genies exceptionally high standards are on show once again and their powered access equipment is amongst the very best in the industry.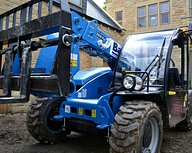 We here at Banner are very proud to introduce this new technology from Genie into our fleet. We hope that our customers will be able to reap the benefits of having such a versatile machine while cutting down their CO2 emissions and lowering their carbon footprint.
Enquire today at our powered access & Plant divisions and speak to one of our helpful hire desk controllers or see below for links to the machines on our website.
Rotherham Access: 01709 511500
Derby Access & Plant: 01332 752035
Leicester Plant: 0116 254 0700
Sheffield Plant: 01246 266705
Wakefield plant: 01924 283947