Solar Panels For Head Office.
We have contracted Henry Boot Construction's Renewable division to install a Solar Photovoltaic array at our Head Office at Dronfield.
The 17kWp system will be designed, supplied, installed and commissioned during November enabling us to start generating electricity thereby helping offset office electrical costs, lower CO2 emissions and receive a return on the government Feed-In-Tariff. When fully operational the array is expected to generate 13600kWh per annum and save 6.7 tonnes of CO2 per annum.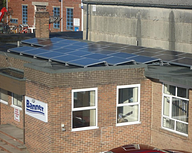 Installing a Solar PV system to our Head office is part of a strategy of energy reduction within the companies' estate that will also help us generate electricity and similarly reduce our carbon footprint.

Giles Boot, Managing Director, Banner Plant Ltd