The Great Banner Bake Off!!
To raise funds for Red Nose day, the Ladies and Gents of Banner have been busy in the kitchen.
Organised by the Credit Control office, staff have been cajoled and "bullied", into spending hours, designing, creating and baking cakes of the highest calibre. Many have been burning the midnight oil, worrying about this ultimate Office challenge!
The difficult task of judging who should be awarded the prestigious accolade of Banner Baker Of The Year, fell to Sales and Operations Manager, Gary Crofts.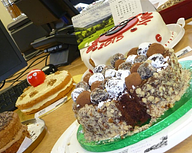 Having digested all before him the award for Banner Baker Of The Year went to Mark Rowley from the Temporary Accommodation section.
Mark's creation was a hazel nut and chocolate truffle cake. Was, being the operative word as it didn't last long!!
I'd like to thank all the bakers for taking part and all the staff who have generously supported this event. Their efforts have raised a significant sum for Red Nose 2015. Well done to everyone.

MD Giles Boot