Atlas Copco XAHS186 - 400CFM
The XAS 186 is a robust high-pressure air compressor with a large free air delivery capacity, ideal for intensive jobs such as sandblasting, powering handheld rock drills (quarry) and general construction work. The XAS 186 was built to be robust and was designed to withstand the toughest working conditions, featuring three-layer protection across all bodywork.
It also has PACE an Atlas Copco invention, which is short for 'Pressure Adjusted through Cognitive Elements'. This allows the user to choose a range of different compressed air pressures for a single unit ranging from 7 up to 14 Bar.
Multiple tools can be powered continuously and cost-effectively by the XAS 186 compressor and it's all controlled through a quick access panel. It also complies with all regulations including safety, exhaust emissions and noise.
Talk to us today!
Use our simple enquiry form to make an enquiry about Atlas Copco XAHS186 - 400CFM
Make an enquiry
---
Product Specification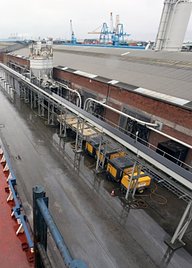 | | |
| --- | --- |
| Free Air Delivery | 370cfm |
| Fuel Capacity | 175litres |
| Operating Pressure | 12bar |
| Weight | 1883kg |
Atlas Copco XAHS186 - 400CFM