Doosan 14/114 - 10/124 (Dual Pressure)
The new StageIV model 10/124-14/114 replaces the former StageIIIA models 10/125 and 14/115 for CE territory.
The "Dual Mode" feature offers more operational flexibility as both pressure and flow can change. While in the past a customer had to choose between different models, the "Dual Mode" offers a "two in one" solution.
By pushing the button on the key pad, the operator can switch between "LO" (low pressure mode: rated pressure 10.3bar / free air delivery 12m³/min) and "HI" (high pressure mode: rated pressure 13.8bar / free air delivery 11.3m³/min).
The StageIV 10/124-14/114 is fitted as standard with a bund, protecting the environment by capturing fluid spillage. Contains up to 110% of all on-board fluids and provides drains, centralised to the front panel.
With the introduction of this new StageIV version, a DEF level gauge has been added to the control panel.
The 8 button key pad allows you to start/stop, load, select HI or LO pressure mode and scroll through the MidPort.
The MidPort is an interactive digital display integrated in the tachometer. The display has 3 lines with up to 11 characters allowing access to the machine diagnostics.
Talk to us today!
Use our simple enquiry form to make an enquiry about Doosan 14/114 - 10/124 (Dual Pressure)
Make an enquiry
---
Product Specification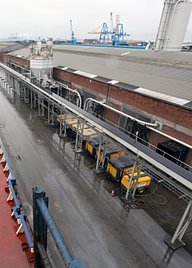 | | |
| --- | --- |
| Free Air Delivery | 2530kg |
| Fuel Capacity | 14bar |
| Operating Pressure | 239litres |
| Weight | 400cfm |
Doosan 14/114 - 10/124 (Dual Pressure)