Doosan 12/255 – 900cfm Compressor
Doosan's 12/255 compressor range is the most compact double axle compressor
platform. The models cover a free air delivery from 21 to 30 m3/min with
pressure between 8.6 and 21 bar, designed with the highest performance for
applications like maintenance, blasting, spraying and drilling.
This new platform offers the Dual Mode functionality with the 9/275-12/255
model for the highest versalitily and all the advantages of two machines in one.
Doosan's attention to environmental protection is translated into a 110% fluids
containment with central drains and the new 'ECOmizer' available on demand,
which guarantees a very ecological footprint in combination with the new
Stage V Cummins engine. The new generation follows Doosan's historical focus
on customer satisfaction with new features for accessibility and simplified daily
maintenance, combined with the benefit of total weight reduction.
New Cummins Stage V engines also contribute to enhancing and simplifying
serviceability, thanks to the introduction of the single canister after-treatment,
with no need of customer intervention as regeneration is activated automatically.
Talk to us today!
Use our simple enquiry form to make an enquiry about Doosan 12/255 – 900cfm Compressor
Make an enquiry
---
Product Specification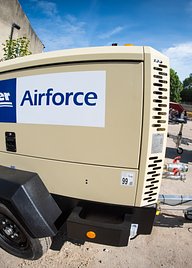 | | |
| --- | --- |
| Free Air Delivery | 950CFM |
| Fuel Capacity | 485 Ltr |
| Operating Pressure | 12 Bar |
| Weight | 5000KG |
Doosan 12/255 – 900cfm Compressor